Water Booster Pumps
KD Pumps Ltd are experts in the installation, maintenance, and servicing of Cold Water Booster Pumps in London and Kent.
Our expert team of service engineers undertake maintenance schedules on both fixed speed and  inverter driven booster set units.
With a 24/7 on call team, we can undertake fault finding on all variations of booster pumps including:
Wilo
Armstrong
Pullen
DAB
Holden & Brooke
Lowara
Grundfos
Our service visits include vessel charging and calibration of all duty points.
If any further works are required we will provide a quotation along with our service sheet, job sheet and site audit report.
All of these are digital with accompanying photographs so that you do not have to decipher a hand written job sheet.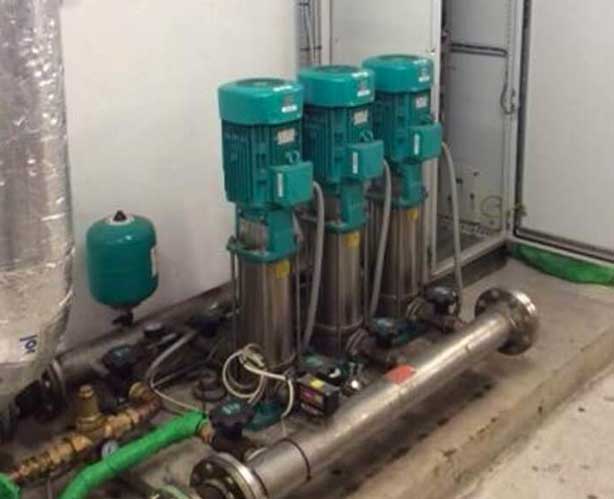 Mains Water Pressure Booster Sets
Cold water booster sets come in a range of options and can be tailored to suit whatever system you currently have in place.
At KD Pumps, we supply, install and maintain cold water booster pump sets for a whole range of customers including:
Hospitals, Hotels
Universities
Student Accommodation
Apartments
Social Housing
Factories
Trading Estates
Car Showrooms
Facilities Management Companies
Principal Contractors. Restaurants
Industrial Estates
Shopping Centres
Airports
Railway Stations
Farms
Why not take advantage of our quotation service for the replacement of fixed speed and variable cold water booster pumps?
Our quotations come with site audits that comprise of photos and a current condition report.
Please feel free to contact us regarding any questions you may have about your Booster Set requirements in London and Kent.
Case Study
Cold Water Booster Set Replacement at University College of London
We were asked to attend an emergency breakdown at a student residence for University College London.
The cold water booster set had completely failed leaving the building's residents with no running water.
The existing cold water booster set could not be repaired due to having seized and burnt out motors, also the pressure switches and controls had failed.
KD Pumps sourced a Grundfos Hydro MPC cold water booster set, had this couriered and installed the replacement on the same day, working into the early hours of the morning.
This unit was fitted with variable speed drives.
This emergency installation solved the university's immediate problem while also providing significant cost savings compared to the previous installation.
The new generation of booster set have a greatly improved energy efficiency rating.
Contact Us
Full packages from the initial drawings to complete scheduled pump maintenance service contracts. State of the art water booster pump services.

For more information about our services, please contact our service partner Primech on 020 3978 8000 and use KD as your referral code to receive preferential rates.
Our Full Package Systems
Pump System Servicing
Pump Repair and Service
Sewage Pumps Servicing
Water Booster Pumps
Pressurisation Vessels
Heating Pumps & Chilled Water Pumps
Basement Sump Pumps
Rainwater Harvesting
Hot Tapping