Kent Rainwater Harvesting Systems
At KD Pumps, we specialise in the design, supply and installation of environmentally friendly rainwater harvesting systems in Kent.
From our head office in Maidstone, our team of highly trained drainage and rainwater attenuation engineers are able to service residential and commercial clients all across the Kent county.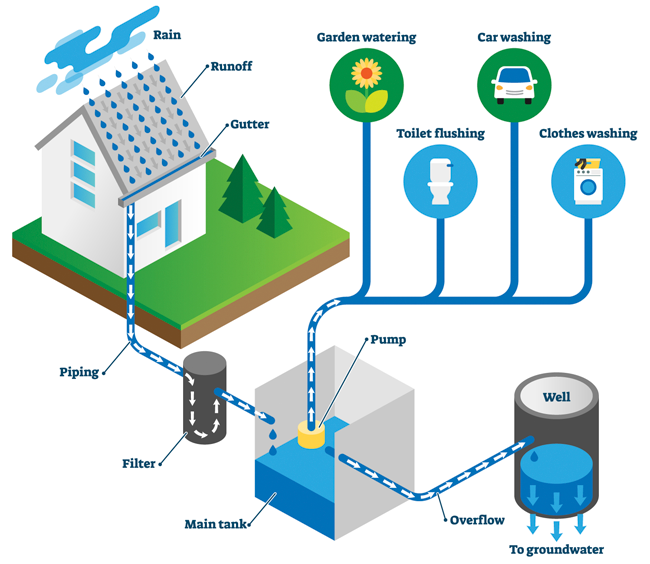 What is Rainwater Harvesting?
Rainwater harvesting is the process of collecting rainwater for recycling from rooftops of buildings, which is then diverted and stored into underground tanks connected directly to the guttering system.
By storing your own water supply, it can be pumped to where it's required to reduce demand on the mains water system.
The practice of rainwater harvesting goes back to the days of the Roman empire, however it's become far less common in modern day times until recently.
Due to change in attitudes towards the environment and sustainability, and the fact that a growing population is placing an exponential demand on the mains water supplies, rainwater harvesting is once again becoming a popular option for many residents living in Kent.
With rising temperatures and hotter temperature, summer time drought conditions are becoming more commonplace.
As a result, the mains water companies are placing restrictions on usage, most notably hosepipe bans during the summer months.
With a rainwater harvesting system in place, any water collected during the wetter months of the year will prove essential to anyone reliant on an uninterrupted water supply, no matter the time of year.
Kent Coverage
KD Pumps installs rainwater harvesting systems throughout Kent, including the following towns and cities:
Ashford
Broadstairs
Canterbury
Chatham
Dartford
Deal
Dover
Faversham
Folkestone
Gillingham

Gravesend
Herne Bay
Hythe
Maidstone
Margate
Medway
Minster
New Romney
Northfleet
Orpington

Ramsgate
Rochester
Sevenoaks
Sheerness
Sittingbourne
Swanley
Thanet
Tonbridge
Tunbridge Wells
Whitstable
How Rainwater Harvesting Works
During rainfall, all water is channeled from the roof via the guttering system and downpipes direct into underground storage tanks. Upon entry, the water is passed through a sand filter to remove dirt, debris and sediment.
When needed, the water stored in the tanks can then be pumped back into the home for use.
It's important to ensure that any water storage tank installed on your property is of an appropriate size, as failure to get this right can lead to the system becoming redundant or ineffective.
Tank size is usually calculated based on average rainfall for the area, size of the building, number of occupants and expected water usage.
What is Harvested Rainwater Used For?
From a practical perspective, a rainwater harvesting system can reduce your demand on mains water by up to 50%.
Typically, harvested rainwater can be pumped back into your property for day-to-day use including:
flushing toilets
laundry
garden irrigation systems
car washing
With our extensive experience of rainwater attenuation, we can help to design a suitable system to suit your needs, demands and property.
If you live in Kent and are interested in installing, replacing or servicing a rainwater harvesting system, please call us on 08000 548 548 or email info@kentdrainage.co.uk